Epson EcoTank L3150 Printer
Description
Epson EcoTank L3150 WiFi All in One Ink Tank Printer
Epson EcoTank L3150 Wi-Fi All-in-One Ink Tank Printer. Ultra-low-cost printing: Print up to 8,100 pages in black and 6,500 in color. Next-generation ink filling system: Enjoy hassle and mess-free refills with the enhanced ink bottles. Wi-Fi, Wi-Fi Direct & apps: Print from mobile devices. 3-in-1: Print, copy & scan, and borderless photo printing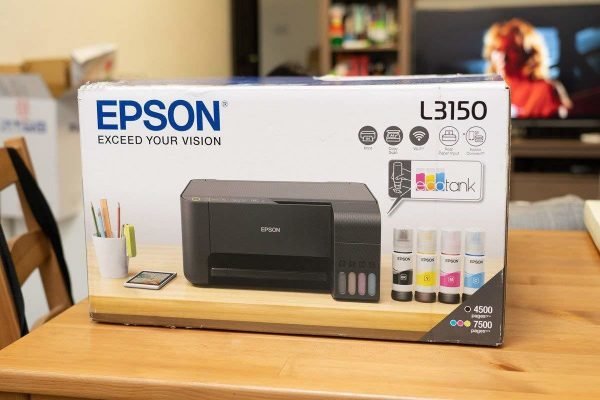 Epson L3150 Specifications
Uses the Inkjet
Up to 30 sheets at a time in the output tray. The printer can use A4 plain papers, Premium Glossy Photo Paper
The input tray can hold  Up to 100 A4sheets, Up to 20 sheets-Premium Glossy Photo Paper, 30 sheets-Postcard, 10 sheets-Envelope, Letter Plain paper (80 g/m2)
Up to 7.7 ipm/3.8 ipm Copy Speed
Uses a Flatbed Colour Image Scanner
11 sec (Monochrome), 28 sec (Colour) scan speed
Supports USB 2.0, Wi-Fi direct connectivity
Supports all Operating System, for both Windows and Mac.
Quick Epson EcoTank L3150  Features
| | |
| --- | --- |
| Product code | Epson EcoTank L3150 |
| Features | 3 in 1 |
| Connectivity | Wireless, USB |
| SKU | Epson EcoTank L3150 Wi-Fi All-in-One |
Why you need the Epson L3150 
The l3150 Epson printer is another reliable ink tank printer for a medium-sized business. Epson designed this printer with the home and office user in mind. Epson L3150 is a cost-effective printer with Wi-Fi capability. The Micro Piezo print head ensures that the printer is durable and can provide you with about five years of service.
Quality Prints
With the ability to print at a resolution of up to 5760 dpi, the L3150 model can deliver high-quality prints. The speed of this all-in-one printer is also exceptional. You can print at a rate of up to 10 ipm for black and 5 ipm for color. You can also print borderless photos up to 4R with the L3150. With such features, you can tell that the L3150 Eco Tank has a high-quality performance.
Cost-Efficiency 
If you are in the printing business, you probably know that printing can be expensive, especially if you have to print bulk volumes. The good thing is that Epson's printer is here to solve all your problems. This printer provides you with a cost-effective option. Each ink bottle can print up to 4500 blank and 7500 color pages while maintaining its quality level. You can also print wirelessly from anywhere in the world. With Epson iPrint technology, you can print and scan directly from your smart device or cloud storage service.
Top Recommended Printers to buy in Kenya 
There is a curated list based on the Printer sales volumes, customer feedbacks, and Printers Popularity in Kenya and East African Market. We have featured top Printers from Epson Canon, HP, and Kyocera
Popular Epson Printers in Kenya
Epson L3111, Epson L3150, and Epson Eco tank ITS L5190
Epson L3111 Print Scan Copy + USB
Technical Specs  of Epson L3111
| | |
| --- | --- |
| Printing Method | Epson Micro Piezo™ print head |
| Nozzle Configuration | 180 Nozzles Black, 59 Nozzles per Color |
| Minimum Droplet Size | 3 pl, With Variable-Sized Droplet Technology |
| Ink Technology | Dye Ink |
| Printing Resolution | 5,760 x 1,440 DPI |
| Category | Home, Home Office |
| All-in-One Functions | Print, Scan, Copy |
Epson Eco Tank L3150 Wi-Fi All-in-One Ink
Save more with Epson's economical and multifunctional printing solutions for business—the Eco Tank L3150—built to bring down costs, and bring up productivity. The integrated ink tank enables spill-free, error-free refilling with individual bottles that have designated nozzles. Other features include borderless 4R printing and an ultra-high yield of 7,500 coloured and 4,500 black-and-white pages.
The EcoTank L3150 also delivers the convenience of wireless connectivity, allowing direct printing from smart devices.
Epson L3150 Technical Specifications
Compact integrated tank design
High yield ink bottles
Spill-free, error-free refilling
Wi-Fi, Wi-Fi Direct
Epson Connect (Epson iPrint, Epson Email Print, and Remote Print Driver)
Borderless printing up to 4R
Epson EcoTank L5190 Printer
EcoTank® for entrepreneurs. Performance and efficiency at your fingertips
The EcoTank L5190 wireless multifunction printer offers you performance and efficiency with revolutionary no-cartridges printing. Get more productivity for your home business! Now with front ink tanks and the new EcoFitTM keyed filling system, which is automatic, clean and error-free.
With great savings in printing costs vs. cartridges, the EcoTank® L5190 allows you to print up to 7,500 pages in color2 or 4,500 pages in black2 with high quality and high speed†. Print hundreds of projects without interruption with the genuine Epson ink bottle sets that equate to about 35 sets of ink cartridges3, saving up to 90% in ink with low-costs replacement bottles1
Epson Eco Tank L5190 Specifications  
Save up to 90% vs. cartridges with replacement bottles¹
ADF for easy copying, scanning and faxing
Ultra low printing cost
Wireless, Wi-Fi Direct® and Ethernet4
The number two quality Printer in the Kenyan market is Canon, Therefore we share with you popular canon Printers to buy in Kenya
Canon Pixma G3411 Color Inkjet Printer Wi-Fi Print Copy Scan Cloud Link.
A compact Wi-Fi, refillable All-in-One with high yield inks for low-cost home or business printing from smart devices and the cloud
Functions
Wi-Fi, Print, Copy, Scan, Cloud Link
Canon Pixma G3411 Specifications
High Page Yield
Integrated ink tanks
Hybrid ink system
High Page Yield
Wi-Fi
PIXMA Cloud link
Borderless printing
1.2" LCD
Enjoy significant Canon Pixma G3411's savings with unrivaled page yields and low-cost printing of high-quality documents and vivid photos plus easy smart device and cloud connectivity with this reliable Wi-Fi multifunctional for home or office.
Canon Pixma G4411 Color Inkjet Printer Wi-Fi Print Copy Scan Fax Cloud Link
Productive Wi-Fi 4-in-one with a smart device and cloud connectivity, 20-Sheet ADF, and very high page yields for low-cost printing.
Smart, productive Wi-Fi 4-in-one for low-cost printing with Canon Pixma G4411 in Kenya – Enjoy high volume, high quality, low-cost home printing using this powerful compact Wi-Fi refillable 4-in-one with print, copy, scan, and fax functions, high page yield, easy smart device, and cloud connectivity, and a 20 sheet ADF.
Incredible page yields- Experience highly cost-effective and productive printing with high yields* of up to 12000 pages from 2 black bottles or up to 7000 pages using a single set of color bottles.
High-quality prints – Print in high quality using Canon's FINE technology and hybrid ink system with pigment black for sharp documents and dye-based colors for vivid borderless photos up to A4.
Effortless connectivity -Wirelessly print and scan from smart devices using the Canon PRINT app, or print without any additional apps thanks to Apple AirPrint® (iOS) or Mopria® (Android) support.
Canon Pixma G2411 Color Inkjet all in one Printer for Printing, Photocopy, and Scanning.
Canon PIXMA G2411 Color Inkjet Printer is a Compact, low-cost everyday printer with high page yields. Print high-quality documents with crisp text and vivid borderless photos up to A4 at a low cost per page using this compact refillable printer with high yield ink bottles, simple USB connectivity, and the durability to handle large page volumes.
Canon Pixma G2411 Features
Weight:9 kg
Voltage/Wattage: AC 220 V – 240 V
Rated Power:12 Watt (standalone copying, ISO/IEC 24712 pattern), 0.4 Watt (sleep mode), 3.9 Watt (ready), 0.2 Watts
Compatibility: Mac OS X 10.6.8 or later, Windows 10, Windows 7, Windows 8, Windows 8.1
Compact high yield print, copy and scan
Efficient and versatile, this home and office multi-functional printer boast high yield ink bottles for low cost, high-quality document and photo printing, copying, and scanning, and the reliability to handle high page volumes with ease.
Hp is one of the most popular brands in Kenya, However, due to evolving needs of consumers more and more customers are moving towards Ink tank Printers since they are easy to run in the long run
Here is a liost of Popular Printers by HP in the Kenyan Market place

The list below is Suitable for offices, homes, schools, and cyber-cafes, and much more.
HP Color LaserJet Pro MFP M182n -32,500
HP Color LaserJet Pro Multifunction M479fnw – 47,000.00
HP Color LaserJet Pro MFP M479fdw- 54,000.00
HP Color LaserJet Pro Multifunction M479fdn -53,800.00
HP Color LaserJet Pro M454dn Printer -49,600.00
Black and White Printers
Printer Prices

 

HP LaserJet Pro MFP M130a- Printer
15,500.00
HP LaserJet Pro MFP M130w Printer
17800.00
HP LaserJet Pro MFP M130nw  Printer
17300.00
HP LaserJet MFP 107a (A4) Printer
11,800.00
HP LaserJet MFP 135A A4 Printer
15,800.00
HP LaserJet Pro M404n Printer
23,500.00
Finishing on this list; are Kyocera Printers they are best printers for Offices
Kyocera ECOSYS M2640idwMonochrome Multifunctional Laser Printer –
Kyocera ECOSYS M5521cdw Color Multifunction Printer-
A quick guide to Types of Printers you can buy in Kenya
On Tdk Printers the online marketplace you can trust, buy laser printers manufactured by the world's renowned brands.
The laser printers are usually known as one-time investment that pays back in due course. They are a bit expensive to buy however they are the most economical when it comes to printing.
The offices make use of LaserJet printers for all their bulk printing needs.
For educational institutions that require printing lots of documents, order LaserJet printers. The laser printers make use of toners that can be refilled as well as replaced upon finishing.
Inkjet printers are cheaper and are usually bought by students as well as those who require printing documents often at home. Moreover, the offices where bulk printing is not required also consider inkjet printers as their top choice. They make use of cartridges that can be easily replaced when the ink has finished.
As the name implies, the multifunction printers are not just printers but offer multiple functions such as printing, scanning, fax receiving/sending, and even photocopying. They are in fact all-in-one solution. The multifunction printers are also known as all-in-one printers. Tdk Solutions Limited has all models of all-in-one printers including Brother Printer in Kenya and many other brands.
The photo printers are made especially for photography enthusiasts as well as for professional photo studios. They print photos with high resolution in a flawless manner. The photo printers make use of Inkjet technology and offer crisp high photos printed on all kinds of cards and papers. Special cardstock is used for printing professional photos via photo printers.
This utilizes an interesting digital printing process by passing the thermal paper through the print head. These are common at point of sale such as in supermarkets.
Other ICT Products Worth Checking out include
Design
The L3150 is compact and sleek. Epson integrated the ink tank into the printer to allow it to have a small footprint. This printer is spill-free and eliminates any possible error when filling individual bottles. The print model does not take much of your desk space. The compact design allows you to place it at any place so that you can enjoy convenient usage. The control panel is also straightforward, with six operating buttons. The printer has LED indicators that can help you with error indications.
Power Consumption
Apart from being cost-efficient, this printing machine is also power-efficient. While other printers may consume a lot of power, the Epson model can operate at a maximum of 12 Watts at its peak usage. When it is in standby mode, it will consume about 0.3 Watts.
Epson EcoTank L3150 Data Sheet
| | |
| --- | --- |
| HP Black and White Printers | Printer Prices  |
| HP LaserJet Pro MFP M130a- Printer | 15,500.00 |
| HP LaserJet Pro MFP M130w Printer | 17800.00 |
| HP LaserJet Pro MFP M130nw  Printer | 17300.00 |
| HP LaserJet MFP 107a (A4) Printer | 11,800.00 |
| HP LaserJet MFP 135A A4 Printer | 15,800.00 |
| HP LaserJet Pro M404n Printer | 23,500.00 |
| HP LaserJet Pro MFP M227sdn  Printer | 30,000.00 |
| HP LaserJet Pro MFP M428fdw -Printer | 47,800.00 |
| HP LaserJet Pro MFP M428dw -Printer | 43,500.00 |
| | |
| HP- Color Printers | Printer Prices |
| HP Color LaserJet Pro MFP M182n – | 32,500 |
| HP Color LaserJet Pro Multifunction M479fnw – | 47,000.00 |
| HP Color LaserJet Pro MFP M479fdw- | 54,000.00 |
| HP Color LaserJet Pro Multifunction M479fdn – | 53,800.00 |
| HP Color Laserjet Pro M454dn Printer – | 49,600.00 |