Kaspersky Anti-Virus 2020 Extra Free License
KSh1,500.00 – KSh2,000.00
In Stock
Description
Kaspersky Anti-Virus  2020 2 and  3-Users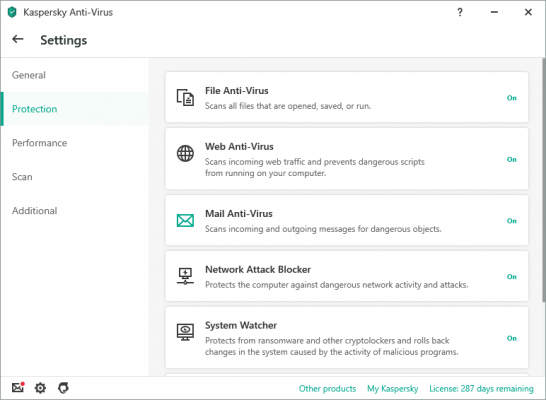 Quick Specs
Kaspersky Anti-Virus 2020 3 User + 1 Extra Free License (4 user 1-year subscription).

Defends against viruses, ransomware & more

Lets your PC perform… as it's meant to

Simplifies security – with online control
Overview: Multi-device security – with antivirus
Protect your PC / MAC and android from Advanced threats. Install on multiple computers for 12 Months.
Buy from us, and we will help you with installation and PC Cleaning. Blocks the latest viruses, ransomware, spyware, crypto lockers & more – and helps stop cryptocurrency mining malware damaging your PC's performance  Essential antivirus for Windows – blocks viruses & cryptocurrency-mining malware.
Our award-winning antivirus technologies help to protect your PC from the latest viruses, ransomware, and other malware.
Over 1.9 billion attacks already blocked this year
PC Mag rated our 2019 Anti-Virus 'Excellent'
The most tested & most awarded security – for six years in a row
Script detection – blocks cryptocurrency mining malware
By detecting scripts, we help to stop cryptocurrency mining malware from slowing down your PC and adding to your Internet traffic.
Detects and blocks crypto mining malware
Uses real-time updates to block new threats
Efficient security that lets your PC perform
With our security working 'behind the scenes' – continuously scanning to find threats – your PC can keep performing as it's meant to. And, because our security is now 15% 'lighter' – there's even less load on your PC.
Easy-to-use features save you time
Because our antivirus is simple to set up and use, you'll have more time for working, gaming & socializing on your PC.
And our intuitive, new dashboard makes it quick and easy to find the features you need.
The latest version of our PC antivirus can also be installed in just half the time needed for our previous product.